Friday, December 31, 2004
(9:43 AM) | Adam Kotsko:
Adams of the World, Unite!
For too long, those by the first name of Adam have suffered under a yoke of oppression. But now, in this age of unprecedented global interconnectivity, we finally have the means to disseminate our message -- "Hey Adam, where's Eve?"
is not a funny joke
. It wasn't funny the first time we heard it in second grade, it wasn't funny when someone deployed it today, and it will never be funny at any point in the future. Variants of this joke, including but not limited to pointing to the nearest woman and saying, "That must be Eve," are similarly non-funny.
So now, at this historic moment, all of the Adams of the world must firmly resolve that the next time they are the butt of an Eve-based joke, we must take decisive action -- we must rise up, realize that the person using the joke is either just trying to be friendly or pathetically trying to be the "life of the party" using the only means at his (usually his) disposal, i.e., lame jokes, and respond by either politely chuckling or feeling smugly superior to the person, respectively.
(Adam Kotsko has asserted the moral right to be identified as the author of this post.)
Thursday, December 30, 2004
(8:43 PM) | Adam Kotsko:
My Self-Induced Computer Problems
I installed Red Hat Linux on my "machine," since they were the only distribution I could find with a straight-up net install that didn't require printing off a 95-page manual and working extensively with the command line (viz. Debian's install process). The whole affair was surprisingly simple, and I now have a functional computer again only a couple hours after completely reformatting. I just have a few complaints:
Red Hat has gone all corporate and shit, so apparently the only way to have easy access to software updates is to pay them money. I apparently need a software upgrade immediately, because the installer for FireFox crashes, asking for a higher glibc version. I say: fuck that.

I have only one mp3 to my name, and for some reason, no matter how many times I try to select it in xmms, it will not load. What is the deal?

The whole point of this exercise was to make it easy to use AUCTeX and bibtex in order to revamp my paper-composition style, i.e., to make it less stupid and inefficient. The process for setting up such a system under Windows was definitely more arduous than what I've done so far (made a boot disk, rebooted, and selected a couple things off of menus).

However, now I think I need to install another distribution. Gentoo looks good. If any of you have tips for how to get my current Red Hat installation to destroy itself and cause Gentoo to rise from the ashes? I don't have a CD-ROM drive, or else I'd have installed Gentoo in the first place.
While you're waiting for another real post, why don't you read about
Cardinal Ratzinger
, who has apparently arrived at his assessment of America "in typical contemporary Catholic fashion: much later than everybody else, and naively uncritical." It's harsh, but I mean -- we were all thinking it.
(Adam Kotsko has asserted the moral right to be identified as the author of this post.)
(2:23 PM) | Adam R:
Milwaukee Scene Report
Pity this writer:
My first job out of school was copy-editing manuscripts for a scholarly journal. Because we corresponded over email, the writers -- usually curmudgeonly, tenured professors -- never knew it was a 26-year-old woman with messy hair and no doctorate, telling them they needed to write more clearly, and I did my best not to let on.
That's the first paragraph in "Thinkspace," a horrible feature in Milwaukee's culture weekly, the
Shepherd Express
.
It drives me crazy. Aside from the juxtaposition of the author's proud tone, her glaring grammatical error, and the fact that she's writing about copy-editing, I'm irked by the typicalness of this kind of thing in the city's only legitimate weekly newspaper. I hear that the
Chicago Reader
has changed formats for the worse, but I still long for something with as much credibility. I like Milwaukee exponentially more than Chicago, but I hate Milwaukee's alternative press.
Or maybe I'm all wet.
(Adam R has asserted the moral right to be identified as the author of this post.)
(1:55 PM) | Michael Schaefer:
What's With "The Economist"?
I confess: I enjoy reading
The Economist
. Its articles are invariably well-written, I find its style engaging, and it provides a breadth of coverage that's hard to find--where else could I learn about the odd policies of the King of Swaziland, the Japanese banking industry, and the collapse of phosphate mining in Nauru, possibly all in the same issue? I even agree with their editorial stance much of the time--pro-gay marriage, anti-Don Rumsfeld, they even endorsed John Kerry (albeit so grudgingly that they might as well have endorsed no one). And their website today has an excellent
article
on exploding inequality in the US, one that basically dismisses the idea of meritocracy in the US as a myth.
But on economic issues, they're still stridently neoliberal (or simply liberal, for our European readers)--deeply suspicious of government intervention in the economy, dismissive of continental European social welfare states (and skeptical about the EU), and apparently still convinced that the only thing developing countries really need is lots more free trade and a lot less government intervention. Frankly, the Economist's editorial staff wouldn't be out of place in the US Democratic Party--proof of how far we've fallen when the closest thing we have to a left party would be considered conservative in Europe.
I know many of this site's readers and contributors would say this sort of hand-wringing is pointless--The Economist is no great friend to the left and never has been. But I think it's indicative of how completely neoliberal economic views have been absorbed into our thinking. The Economist, the Democratic Party both pay lip service to progressive social policies, but their economic views are, at best, moderate versions of the most extreme ideas of the Republican Party. Any talk of the unpleasant (and unpleasant) consequences of free-market capitalism as it's currently envisioned has been relegated to the fringes.
This won't work. Progressive social policies and progressive economic policies can't be separated. It's not possible to combine economic equality and equal protection under the law for all with an economic program that thrives on upheaval and seeks maximum freedom for corporations, which at their core are inherently amoral (not exactly evil, perhaps, but not remotely driven by moral considerations). A society with an every-man-for-himself economic policy is one inherently atomised and divided.
Perhaps I'm being too pessimistic. The landscape's certainly different in Europe, and I'm only drawing on examples from the US and Britain. It's just very irritating to read articles I often agree with in a magazine whose principles I find so contradictory. Likewise, it's deeply depressing to know I voted for a party operating on the same contradiction. One which shows no signs of being discussed any time soon.
(Michael Schaefer has asserted the moral right to be identified as the author of this post.)
(10:09 AM) | Adam Kotsko:
Thursday Afternoon Confessional
I promise we'll go back to Friday next week, but for now we'll continue our holiday schedule.
I confess that I've been travelling way too much lately. I confess that I haven't been keeping up with my French like I should. I confess that two weeks after last semester concluded, I
still
haven't finished my Derrida translation. I confess to being eager to move.
I also confess that I am having a New Year's Eve party at my house this year. If anyone in The Weblog's community will be in the Chicago area and would like to come, feel free to e-mail me for details. This will, however, be a hick party out in the sticks, so gentlemen, please bring some Old Style, a big ol' flannel shirt, and your best Carhart coat. The ladies can bring wine coolers and should make sure to crimp their hair and make their bangs as big as possible.
I can't promise anything about the posting schedule for the weekend, but next week we'll be back to normal. It looks like a lot of people have been on vacation this week anyway, judging from the stats.
UPDATE: I further confess that I would donate either my Amazon Associates money or my ad revenue to the tsunami relief effort, but I haven't made nearly enough for them to even consider cutting me a check. For convenience, you can donate through
Amazon
, or you can go over to
Crooked Timber
and participate in the various Amazon Associates donation schemes currently underway there.
(Adam Kotsko has asserted the moral right to be identified as the author of this post.)
Wednesday, December 29, 2004
(7:26 PM) | Adam Kotsko:
Year-End Thanks
I'd like to take an opportunity to thank everyone who makes The Weblog such a fun passtime for me.
First of all, I'd like to thank Anthony, Robb, Mike Schaefer, Monica, Tara, Richard, and Adam Robinson for their terms as full-time staff bloggers, and I'd like to thank them all for taking it in stride as I made the transition away from that format (firing a couple of them in the process, then realizing that any policy that would make me "fire" two good friends is probably something that could be revised). I'd like to thank all those who have participated in our guest blogger program, including Bill Mantis, Travis Young, and especially The Young Hegelian (who is certainly welcome to post again whenever he wishes).
I'd like to thank our wonderful commenting community, including, but not limited to, Patrick, Angela, Infinite Thought, Young Hegelian, Olivia, Rebekah, William S, Brey, Ralph Luker, and of course, Cap'n Pete. I'd like to thank our enterprising young trolls: Paul Welneck (aka Hindustani), low-rent empiricist positivist (with a special thanks for all the homophobic/anti-Semitic [
sic
] e-mail I received from him after blocking him), and troll du jour.
I'd like to thank à Gauche for being such a good sister site. I'd like to thank everyone on my blogroll for being such good bloggers. I'd like to thank the many sites who have directed traffic our way, especially Cliopatria (which racked up far and away the most referrals to The Weblog this year), Infinite Thought, Long Pauses, wood s lot, John and Belle, Crooked Timber, and all those who help to make us here at The Weblog into the Flappy Birds God intended us to be.
I'd like to thank all those who made St. Paul Week such a success -- Ryan Hansen, Dave Belcher, Anthony Smith, Brad Johnson, and Adam Kotsko -- and all those sites that participated in the failed experiment of the University Without Condition this spring and summer (à Gauche, Cap'n Pete, The Pickle, The H is O, News You Can Use, Confessions of a Philosophy Groupie, BreyLog, Scott McLemee, Ralph Luker, For the Time Being, and The Sliver). I believe St. Paul Week to have been very much in the spirit of the UWC concept and hope to host similar events in the future, but not too soon in the future. Thank you to all those who helped to create a virtual support group in those dark days after the election and to all those who helped to make our Heifer Fundraiser such a great success.
Thanks, everyone, for reading and writing.
(Adam Kotsko has asserted the moral right to be identified as the author of this post.)
(7:19 PM) | Adam Kotsko:
Closets
Yesterday while Anthony, Hayley, and I were apartment shopping, we noticed a disturbing trend in Ukrainian Village: no closets in any of the (microscopic) bedrooms. We found that unacceptable and are likely going to find a non-Ukrainian apartment. Today at work, I mentioned the lack of closets to one of my co-workers, saying that I didn't understand where I was expected to put my clothes. She said that it must be a European thing not to have closets and to use a wardrobe instead, because when she was in Russia to adopt her children, she noticed that no one had closets. Suddenly all these flashbacks struck me: in Oxford, there were no closets, only wardrobes; C. S. Lewis's first Narnia book features a wardrobe very prominently; etc., etc.
My question is this: What's the deal with closets? Who first came up with them? Is it an American innovation? Might it actually be easier to be able to pick up your "closet" and take it with you, rather than having to pack up all the stuff separately? Maybe we should go with Ukrainian Village after all, being the America-hating pieces of shit we are.
(Adam Kotsko has asserted the moral right to be identified as the author of this post.)
(2:24 PM) | Adam Kotsko:
Prophetic Voice
Cap'n Pete
offers a prophetic response to our leader's stinginess in the face of the worst natural disaster in recent world history.
(Adam Kotsko has asserted the moral right to be identified as the author of this post.)
(10:21 AM) | Adam Kotsko:
My Job: A Candid Assessment
My last day at this job is January 14, so a candid assessment seems appropriate and timely. I have worked for a local chiropractor for the past two and a half years, in a clerical, data entry, and receptionist capacity, with some additional responsibilities in x-ray analysis -- a true
factotum
. I have received a fair wage for my labor, and I have been able to take off as much time as I wanted, even calling in the very morning I was supposed to work. I never even felt any pressure to claim I was sick -- they knew I was a student and sometimes needed some extra time. The only drawback to my aggressively part-time status was a lack of vacation time and insurance. I did, however, get unlimited free chiropractic adjustments, something I now wish I'd taken advantage of more.
I was planning on complaining about my job when I first started this post, but I've apparently become much more mature within the last ten minutes. There were times, such as this morning, when I dreaded coming to work, but my real problem was not so much with this job as with
work as such
. I have certain kinds of work I want to be doing -- which I incidentally haven't been able to do very much in the last two weeks, leaving me feeling very stressed out and frustrated -- and very few jobs that are currently available to me are going to allow me to do that all day long. But all these people are still demanding my money month after month, so if I had to have a pointless job just to make money, this pointless job was fine. And sometimes it really does feel good to make sure that everyone got back to see the doctor in an orderly fashion, that all phone calls were answered, and most importantly, that all the numbers balanced across.
(Adam Kotsko has asserted the moral right to be identified as the author of this post.)
Tuesday, December 28, 2004
(7:32 PM) | Travis Young:
Fear, Insecurity, and Partisanism: The American Way
"I live in a medium-sized Texas town close enough to hell that the stench of conservative warmonger revenge resembles a bizarre cocktail of sulfur and week old cat piss."

I would say this to everyone I meet, except for the simple fact that bravery and stupidity are not interchangeable--therefore I would already be dead. My life means less to me now than it did 10 years ago, and 10 years in the future who knows how miniscule the measure of one's life may be. Still, respect and self preservation root deeply but insecurely in the feces that keep this world alive.

So I read in the local rag an editorial about how anyone buying anything made in China was supporting Communism. The author gave examples of Thompson Electronics owning RCA and GE, and China developing their nuclear submarines with the help of Russia. In conclusion he advised readers to "only buy American" because "why fund China's fight against freedom and the United States". Although circumstantial, he supported his theory by admonishing everyone to watch some Dish Network channel so that "they can see how business in China is exploding..."

I spend most of my time in fear. For different reasons, most people do, only they simply are unable to admit their weakness to themselves, let alone anyone else. Sometimes it's justified. But this guy's editorial was just lots of nonsensical fear. We have enough going on inside of our heads to keep us marginally afraid for a very long time...and this prick decided to impose his fears on others. And to make matters worse, he was stupid and wrong!

I swallow a great deal of rage too. I don't think my reply was all that great, or even very controversial. But the yokels here really got pissed off (other than veterans of any foreign war in the past 65 years, Bush supporters, or anyone patriotic, I don't see what the fuss is). The paper edited it only slightly, and it would be unfair to you (constant reader) to censor myself whatsoever...that is your job:
December 11, 2004
In reply I would like to first give my earnest complements to Mr. Ralph Kinney's editorial concerning "Red China Rising" as it appeared in East Texas Mailbox on Saturday, December 11, 2004.
Paranoia abounds. Yes, the U.S. is fighting a "war on terror" without the general expectation of unilateral support from either the UN or key countries who posses military aid that would benefit coalition efforts. But the president of the United States whose salary my taxes pay without reservation lends unprecedented endorsement to Kofi Annan, the UN leader who benefited more from oil than food. I would be more paranoid about the reciprocity of such a union.
So in these wisely savage times we have invaded a country and killed terrorists in the name of "reciprocity" (only in simpler times the term used would have been "revenge") yet John Q. Public always seems distracted by the post-election bump in the stock market, or what country made my RCA stereo. And aren't we all so happy that K-Mart can now annoy us again with aesthetically devoid cellophane TV spots after their embarrassing implosion oh so few years ago?
What we tend to forget about "Red" China is that the market is such that manufacturing consumer products (especially consumer electronics) there currently costs less than in other countries. It wasn't always that way. 10 years ago we were afraid of Taiwan (of all places), and in the past 20 years absolutely terrified about Japan a la Michael Crichton's Rising Sun.
We forget the McCarthy Red Scare of communist Russia 50 years ago, and the subsequent witch hunts that really put our tax dollars to good use. We refuse to remember the lemon recruiters sold kids on 40 years ago about "Red" Communism in Vietnam conquering the world one country at a time (boy that worked out well for all involved), and now we're in Iraq.
Where would we be without paranoia/propaganda? We probably would be more concerned about what our own country could be doing. Things here are even more scary, such as the integration of the private sector into government: a small but perfect example being the uncanny power the Space-X Corporation wields over NASA. Or perhaps the Office of Force Transformation's (a legitimate offshoot of the DoD) zeppelin airship program, designed with first-strike intent to slip in and out of other countries at both high and low altitudes without radar interception. I would worry where the U.S. will be goose-stepping next instead of China's nuclear submarines.
We are a culture that is more concerned about how other countries can affect our personal economy than what our own country may be doing to extinguish the cultures of others. Hiroshima and Nagasaki. Korea. Vietnam. And now Iraq. Under the guise of "peace, liberation, and freedom" the body count rises exponentially. We may not be "Red", but our hands are unquestionably covered in blood.
Without distraction, the most dangerous country the dollars that paid for my Christmas presents could go to is my own.
____________

Now I realize I fill a cathartic but self-refuting need by substituting ridiculous paranoia with genuine concerns. But we didn't start the fire...I can only treat symptoms, not the cause. Better to be afraid of something real instead of a monster under the bed.

Since my response was published I have had 3 death threats, uncountable blocked calls in the middle of the night, a dog gutted and slung over my mailbox, and a flaming bag of doo flung at my front door. I bought a shotgun and a locking gas cap for my car.

Now why was this worth your time?
1) Many people (like me) are so far right that they are mistaken for being left.
2) Many people do not know their right from their left, but are well versed at choosing sides.

Because of this we have partisanism--people talking about things they do not understand, limiting their few genuine thoughts to opinions that (when turned to actions) prevent what they really want from happening. Thus in this republic, democracy thrives, and so will your opinion.

So it's worth your time to form an opinion out of your thoughts rather than your fears. Perhaps some of you never have done that. And by the way, if you are able to do so, you did much better than I.
(Travis Young has asserted the moral right to be identified as the author of this post.)
(11:14 AM) | Adam Kotsko:
'The word "peacemaker" practically screams Antichrist'
Slacktivist's
latest Left Behind commentary
is excellent, as
all of them
have been.
(Adam Kotsko has asserted the moral right to be identified as the author of this post.)
(1:12 AM) | Adam Kotsko:
Being Sodomized by Angry Wolves
I just got back from dinner with Ogged, Unf, and Ben Wolfson, and it was
significantly
better than the experience described in the subject line. It turns out that I had misidentified Ben at the Tingle Showcase. Ogged was very nice; he reminded me a lot of Dan Schlorff, for all the Olivet/CTS affiliates reading this. Unf was also really nice, and he resolved to start posting every two weeks. We went to the Indie Cafe on Broadway St., a nice Thai
cum
Japanese restaurant, and then to a bar whose name I don't remember. Ogged generously financed the entire venture.
Among other topics, we discussed furniture, Unf's trouble with Surround Sound wiring in his new house, male pattern baldness, blogging, fascism, the difficulty of attracting and retaining female bloggers, using one's blog as a tool for getting laid, the academic job market, the advantages of preventing photos of oneself from appearing on the Internet, the idiocy of Searle, the boundaries of Ukrainian Village, finding Ogged a wife, and the fact that we were definitely going to blog about our little get-together.
(Adam Kotsko has asserted the moral right to be identified as the author of this post.)
Monday, December 27, 2004
(6:32 PM) | Adam Kotsko:
My Weird Dream
Last night I had a dream in which I went to Burrito Loco and Phil, a Presbyterian DMin student who was in my Barth class last spring, was working there. (I have just posted on
CRI
that I have a negative view of Presbyterians; the people in my Barth class, who ironically make up the majority of Presbyterians whom I know personally, are all exceptions.) I ordered something and then changed my mind; the girl at the counter didn't understand; Phil tried to correct it and just ended up messing everything up.
I believe that my unconscious mind is telling me never to trust a Presbyterian minister with my Mexican food. If anyone has alternate explanations, please let me know in the comment box below.
(Adam Kotsko has asserted the moral right to be identified as the author of this post.)
(1:46 PM) | Adam Kotsko:
Yuschenko Wins
The New York
Times
reports
that, with 98% of the official vote tallied, Yuschenko has won Ukraine's re-vote 52%-44%.
When do we get our re-vote?
ALSO:
The Web sucks
.
(Adam Kotsko has asserted the moral right to be identified as the author of this post.)
Sunday, December 26, 2004
(9:04 PM) | Adam Kotsko:
Poetry
I wish I could write poetry -- just enjoy the shape and weight of the words. All literature enjoys a certain freedom of speech, a certain tolerated reticence with regard to meaning and teleology, but somehow, one can never attain the same freedom in prose as one can with a text broken up into lines and stanzas -- as though that's the visual cue for a
truly
useless piece of text, a text where nothing at all is at stake.
I've said before that I don't want to be taken literally -- even in those pieces where I incorporate my life events, I'm not trying to do autobiography or memoir, just cobbling together the materials that are ready to hand. Yet I keep getting all these
responses
: comments, e-mails, personal conversations. Perhaps next time I should add more line breaks? Or perhaps my respondants are attempting to write their own literature, their own poems, and I shouldn't take their responses so personally.
(Adam Kotsko has asserted the moral right to be identified as the author of this post.)
Friday, December 24, 2004
(5:09 PM) | Anthony Paul Smith:
Some Holiday Reading.
I just found
this interview with Michael Hardt
through Political Theory Daily Review. It's rather good, and if you have read
Adam's piece
at Philosophy and Scripture you may find it interesting.
(Anthony Paul Smith has asserted the moral right to be identified as the author of this post.)
Thursday, December 23, 2004
(8:12 PM) | Adam Kotsko:
Christian Persecution is Real
We at The Weblog have just received an exclusive report of a story sure to dampen any but the most resilient Christmas cheer. A cabal of powerful secularists is just days away from implementing a plan to provide a Final Solution to the Christian Question.
The group, drawing its membership from the Academy of Motion Picture Arts and Sciences, the Modern Language Association, the nation's press corps, and the Episcopal Church, is planning to storm every Bible-believing church in the nation this coming Sunday, shipping all of the nation's Christians to reeducation camps.
Once there, the unsuspecting Christians will have their beliefs assaulted in every conceivable way. All the young men will be forced to administer and receive blow-jobs and anal sex from each other several times a day. The young women will be forced to dress suggestively, become pregnant, and have abortions. Every marriage will be dissolved, and parents will be tied up and subjected to beatings from their children. Everyone will be given a large American flag and a Zippo-brand lighter; those who refuse to burn the flag and urinate on it will be summarily executed. Every single Christian, from toddlers through great-grandmothers, will be strapped to a desk and forced to sit through a 10th grade biology class and an intro course in biblical studies. Quotes from Nietzsche and Marx will be played on a continuous stream over loudspeakers.
Those who refuse to conform to the practices of the church of Secularism, Sodomy, and Science will be sent to the clandestine Gulags that the MLA has been maintaining in Cambridge, MA, for the past three decades.
Thankfully, since the Christians have advance warning of this dastardly plot, they can take some precautionary measures, drawing on the meager resources at their disposal -- the executive, legislative, and judicial branches of the United States federal government, the US military, and a significant media apparatus of their own. With any luck, this horrifying Neronian conspiracy of reporters, gay priests, and professors of comparative literature can be stopped before Christianity is utterly extinguished in our great nation.
(Adam Kotsko has asserted the moral right to be identified as the author of this post.)
(6:29 PM) | Adam Kotsko:
I've got reservations
This evening I decided not to leave for Michigan until tomorrow morning. I was not even packed when I got home from work, and all I'd had to eat all day was a bowl of cereal. Stress was a factor. Now, a whole evening stretches before me -- it will end with a marathon viewing of the final disc of
24
, season 3. I'm worried about Michelle, but since she's white, she'll probably survive.
Until everyone starts coming over to become stressed out and yell "You've got to trust me on this!" at each other, I have an unexpected open space. When such a space confronts me, my first move is usually to clean up the house -- nothing major, just the dishes and a little sweeping. Jesse says that I'm clean but flexible, and he's right, although occasionally I need to assert some control over my surroundings, make my mark on my space. When I had the house to myself most weekends while Richard still lived here, I would do cleaning of some kind every Saturday morning, as a way of claiming the space and time for myself. I don't clean every weekend anymore, because my roommates are likely to be home and I don't want them to feel any kind of guilt for not helping. I've felt quite enough of that kind of guilt and don't need to inflict it on others.
What will I do with this time? Certainly some French, a half hour of "French" at least: Passolini's
Saint Paul
seems the most likely. Perhaps some Badiou after that, in translation. The weakness of the dollar has complicated my devious plot of smuggling in French philosophical texts through Canada.
John Wesley awaits eventually, but not tonight. He's waited this long, and he can wait a while longer. As long as I'm reading either Badiou or Wesley, I am arguably making progress toward that damn paper (working title: "Smoke and Mirrors: A Badiouian Reading of Wesley"), and Badiou is more fun. Perhaps I've put too much pressure on myself. In the back of my mind, the thought lurks that I will have failed if not all of my "major" essays from the MA have been sent into journals by the time I graduate. Now I'm thinking of doing the Derrida translation as a separate exercise, then doing my old idea (codename: "clusterfuck") for the real thesis. And of course, German classes are available for next semester or the summer.
Reading French is genuinely satisfying, as is studying philosophy and, to a lesser extent, theology. Even Wesley should be fairly interesting. It's just these damn deadlines, this internalized pressue to produce! I'm not even in an actual PhD program yet. And when I see the contents of a PhD program, I can never space it out in my mind. I don't think in terms of taking two or three courses a semester for a couple years, then studying for exams, then taking a few years to pound out the dissertation. I think in terms of getting all of it done within the next couple weeks. Perhaps my youth prevents me from having a realistic concept of time. The same thing happens with a course syllabus: when I first read it, in my mind, all of it has to be done within a week, including the paper.
One day while Brett and Tara were living at my house due to forces beyond their control, I was talking to Tara about starting habits. I am reluctant to start new routines because I always think in terms of the rest of my life -- "Great, now I have to do this every day, forever." Looking very serious (or, rather, looking like she was trying to look serious), she said it must be exhausting to be me -- a perfect Tara moment. Talking to Lauren one morning in the Salonica in Hyde Park, she mentioned that Ted Jennings has a daily ritual of getting French toast and coffee there. I said that I could never do that, at least not until I had settled down in a career. This time, the problem wasn't that the ritual would be an imposition, but that circumstances might force me to be unfaithful to it. I didn't want to make a promise I couldn't keep, even if it was a tacit promise to myself to eat at a certain restaurant every day. At least part of the reason to go home for Christmas despite having just been there last week is to keep up my unbroken streak, to reassure myself that I can at least do this one thing with some consistency.
Worse than starting habits is stopping habits. People quit things entirely too much -- we are addicted to kicking habits. I drink an unhealthy amount of coffee, particularly when I have a lot of work to do, but I don't want to quit -- I don't want to make up my mind never to drink coffee again. Or church. It took me forever to work up the nerve to miss church, because that would mean breaking my streak, would perhaps even mean starting a new habit of
not
going to church. The same with writing in my journal -- if I don't do it every day for a long stretch, I would rather not do it at all.
But next year: Thanksgiving, yes; Christmas, no. I can't do it any longer. The useless presents, the wasted money, the expensive clothes that make me feel awkward, the horrible overkill of my little cousins' presents, the memories of being a plotting little kid who could absolutely count on what he was getting for Christmas and never learned to be surprised or grateful (what was there to be grateful for? I had already added each gift to my mental inventory of stuff before opening it), the feeling that I was constantly letting someone down by not demonstrating my excitement in obvious ways, etc., etc.
I need some time off, maybe -- not that that has ever solved anything, not really. I'm still young, but nothing has ever really gone away. My memory is just too good -- it makes me a good bookkeeper, maybe a good academic someday, but that's about it.
(Adam Kotsko has asserted the moral right to be identified as the author of this post.)
(7:53 AM) | Adam Kotsko:
Thursday Afternoon Confessional
Since some moron decided that Christmas would be on Saturday this year, we're doing our confessions early. I confess that I have done nothing meaningful or productive since turning in my paper last week. I confess that I am not looking forward to Christmas. I confess that I still have some shopping to do this morning, but wish that I could sleep instead. I confess that I sometimes needlessly suffer from back and neck pain, despite working for a chiropractor and having access to free adjustments. I confess that I am in love with the character Michelle Dessler from
24
(played by Reiko Aylesworth).
(Adam Kotsko has asserted the moral right to be identified as the author of this post.)
Wednesday, December 22, 2004
(1:49 PM) | Adam Kotsko:
This Article Makes Me Want to Die
Here:

A 2004 survey of religion and politics revealed a religious minority that constitutes at least 7.5 percent of the American population. It referred to this informal denomination as "Secular."

Sponsored by the Pew Forum on Religion and Public Life, the poll shows the fairly uniform political orientation of secularists: Only 21 percent regard themselves as politically conservative. A large majority, 79 percent, favor what the survey terms "gay rights" and support legal abortion.

For each element in the Judeo-Christian family of faiths, secularism has its counterpart: a strict ethical code, albeit focusing on health issues ("Thou shalt not smoke," etc.); the use of shame when individuals disregard ethical rules (e.g. fat people); a related promise of eternal life through medical advances; a creation story (Darwinian evolution); and so forth. All that's missing is a deity, but not every religion has one, as the case of Zen Buddhism attests.

The secular church is populous and dynamic, with a membership far exceeding that figure of 7.5 percent. Many individuals who identify nominally as Jews or Christians in fact are devout secularists.

All this would be fine—after all, America is a big country with plenty of room for every spiritual predilection—but for the tendency of secularists to use aggressive means in advancing their political agenda and spreading their faith.
The Enlightenment -- she is dead!
(Adam Kotsko has asserted the moral right to be identified as the author of this post.)
(11:58 AM) | Michael Schaefer:
On Belief
Sometimes I think I'm incapable of posting except in response to other's posts, and then only at twice-yearly intervals.
The basic complaint of Adam's last post, it would seem, is that there's no such thing as debate anymore--there's no possibility the other party might be convinced of one's position based on the merits alone. In fact, this isn't even a goal; rather, the point of most political discussion nowadays is to end conversation altogether--my opponent is clearly too ignorant/misguided/socialist/evil for
any
of his views to be taken seriously.
Maybe that's not the point of Adam's post at all. But it's something that bothers me a great deal, and it's that irritation that's fueling this post.
So there's no more debate anymore--but then, how could there be? Political discourse in our country is so bound up in belief, in faith, religious or otherwise, that it's impossible for any attempt at reasoned debate
not
to descend into
ad hominem
attacks. This has even spread to economic debate, which I find stunning. My view of capitalism (and, I thought, most everyone else's) has long been that it's capable of wonderful things, capable of truly horrible things, and that it's the job of government to keep people from being crushed by its ups and downs (I suggest Sweden as an example of a place that's managed to do quite well under the consensus that letting the market do whatever it likes is -not- a viable way to run a society). But that's not how it's framed anymore--rather, capitalism is
good
, the market is
good
, and anything outside of that framework simply isn't. The assumption underlying the current attempts to "reform" Social Security is that Social Security is an intrinsically bad idea. Inevitably, the Democratic Party will end up fighting a rearguard action, having ceded the basic terms of the debate to the Republicans.
But I'm digressing. The point I'm driving at is how dangerous belief can be when it's tied to something as powerful as a national government. Discussion becomes impossible--indeed, if policy goals are tied to fervent belief, why even bother? One's core beliefs, once established, don't tend to require a lot of evidence to sustain them, while an enormous amount is necessary to shake them. This is why nationalism, for instance, so often descends into persecution and discrimination; what might have begun as a set of concrete policy goals--greater autonomy, official recognition of a language in education and government--often becomes a belief that one group is special, with interests outweighing those of any other. Nationalism is particularly pernicious because it can tie a set of beliefs to ethnicity, limiting who can share a set of beliefs by definition.
The problem in the US isn't ethnic nationalism , but I think nationalism is a good example of how political debates can be absorbed into the realm of belief, thus shutting down meaningful debate--which is precisely what's happening here. It's becoming harder and harder to have any sort of discussion about things like economic or social policy because they've been framed in terms of belief, right and wrong--an opponent isn't just incorrect, he's opposed to something intrisically good, or a supporter of something intrinsically bad. It's very difficult to have a debate about economic policy if one must first make the case that government regulation is not, by definition, morally wrong.
Perhaps I'm exaggerating, but the president has already made numerous speeches linking capitalism in its purest form with democracy itself--free markets and free speech. It's a brilliant tactic: he's managed to present his opponents not as advocates for a more equitable system, but opponents of freedom. Hard to put up much resistance to anything if that label sticks. We're not there yet, but I have no doubt that's the path we're on.
And that's very bad. Democracy breaks down if one side views politics in terms of core beliefs (increasingly all-encompassing beliefs, at that) while the others sees it as a set of points to be debated. The believers always win--rules are far easier to bend (and break) if you operate with the assumption that right (and God) are perpetually at your side.
(Michael Schaefer has asserted the moral right to be identified as the author of this post.)
Tuesday, December 21, 2004
(6:57 PM) | Adam Kotsko:
Things I am tired of
I am tired of people claiming not to understand an argument when clearly they do understand it and just disagree with it. It's nothing but an attempt to position oneself on the side of plain common sense, over against one's opponent.


I am tired of being told that the theological positions I advance do not conform to the official teaching of the Roman Catholic Church. It's nothing but an attempt to disqualify me from having a right to say what I'm saying, by painting me as a hypocrite ("Look, folks, the guy's registered as a member of a Catholic parish, but the stuff he's saying isn't even in the Catechism!").


I am tired of conservatives deploying the discourse of victimhood and the various devices of postmodernism. Conservative critics of those tactics were right: they are both dishonest and insufferable. Especially obnoxious is the tendency to psychologize liberals for holding the opinions they do.


I am tired of the use of the word "liberal" to denote all non-conservatives. The conservative movement really does represent a narrower range of opinions than the liberal side, because the conservativism that is now orthodox began as a very focussed minority movement. That is a big part of the reason for its success, and over the course of the next few decades, perhaps a similar "liberal" (or "progressive") orthodoxy will come into existence as a potent political force. No such liberal orthodoxy now exists. Pretending that "liberal" denotes the same kind of monolithic force as "conservative" does is completely dishonest, though it has been hugely effective as a rhetorical tool. I know that in many conversations with conservatives, I am instantly typecast as a liberal, and my conversation partners already feel like they know what I'm going to say.


Since this could apply to what I just said: I am tired of the logic of equivalence. What I mean by this is the claim that whatever fault occurs on one "side" must be equally prevalent on the other "side," and that therefore the fault is not worth talking about. If, for instance, I said that the Bush administration lies a lot, the counter-accusation would be that Clinton lied. The real motivation behind this rhetorical ploy seems to be to direct "liberals" to worry about "their guy" before criticizing "our guy" -- that is, the point of such a move is not to posit a moral equivalence between Bush and Clinton (such a thing would be unthinkable!), but rather to undercut the "liberals" as hypocrites who are only concerned about lying when it's the other guy who's lying but turn a blind eye to their own lying compatriots. It's a way of setting an impossibly high burden of proof -- before my accusations against Bush are to be given a fair hearing, I must denounce or disown every dishonest person who could plausibly be called a liberal.

[As a sidenote, to counteract the equivalency attack on my assertion that conservatives already have me typecast: there is a much, much smaller range of "canonical" sources for the shaping of distinctively conservative opinions than there is for the shaping of liberal opinions, and those canonical sources are much more disciplined in conforming to a particular orthodoxy. No such unified sources of aggressively partisan information exist for liberals, and neither is such a univocal media environment even possible on the liberal side, because no parallel to the conservative orthodoxy exists. I am not saying that liberals are morally superior for this reason, just observing that, once again, the "two sides" are not strictly equivalent simply by virtue of being "two sides."

I'm sure there's a very erudite remark waiting to be made about the fact that the conservative movement has basically fabricated a unified "liberal" movement as its own mirror image.]


I am tired, more generally, of the bracketting of the question of reality in favor of the question of partisan advantage. The constant accusation of "liberal bias" and the psychologizing of "liberal" opinions both share the common goal of undercutting the liberals' appeal to facts or reason. Although this tactic would also undercut conservative/Republican appeals to facts or reason if followed to its logical consequences, in point of fact, the accusations of manipulating the facts have been so often used against liberals serve to inoculate conservatives against any similar accusations levelled by liberals against conservatives -- "See, there they go again, trying to distort the facts for their own partisan gain."


I am tired of the rhetorical tactic of answering an accusation by ignoring it and then claiming that the accuser is morally suspect because he is not talking about something else: "All these people who complain about Ashcroft never seem to complain about Pol Pot." "Sure, they feel good about themselves for complaining about the abuses at Guantanamo, but you don't hear them criticizing the genocide at Darfur." Again, it's an impossibly high burden of proof: your complaint will only be given a fair hearing once you have expressed moral outrage at every other possible target.
Sometimes I'm just tired of talking to people at all.
(Adam Kotsko has asserted the moral right to be identified as the author of this post.)
(4:45 PM) | Adam Kotsko:
Computer-based Remarks
Does it appear to anyone else that we are rapidly approaching the point at which Apple will have solved all the problems of home computing in their final form?


If I wanted to finally go through with installing Linux on my laptop here, is there any practical way to do so given that the CD-ROM doesn't work? Like could I put all the files on one of my roommate's computers and make an install floppy that could find the files via Samba? Or would I have to set up one of their computers as an FTP server? Should I leave you guys alone and check out Linux HOWTO shit?


If I can just make an install floppy -- does anyone have a floppy disk I could use?
Thanks.
UPDATE: Windows ME sucks. I wish my computer had just come with 98 instead. Either that, or I wish that my CD-ROM drive would work. Or I wish that one of my roommates had a floppy disk.
(Adam Kotsko has asserted the moral right to be identified as the author of this post.)
(11:36 AM) | Adam Kotsko:
Packing Up My Library
As most of my readers know, I am soon moving from the Bourbonnais bungalow to an as-yet unspecified location in Chicago. There's a fair chance that I'll be in Chicago for a few years, but until I know for sure, it makes the most sense to travel light. Tara said I could store stuff in her basement, and my biggest amount of "stuff" by volume is my vast (for a twenty-four-year-old) library. There isn't a book on my shelf that I haven't thought of taking down and re-reading, or reading, as the case may be -- except for a few that Kevin Crimmins ditched when he briefly lived at my house, all of them were
lovingly hand-selected.
Thus it's not a question of sorting out the ones I like from the ones I don't like. Nor is it a question of sorting out the ones that I haven't read or that I'm likely to want to re-read from the ones I have read and am finished with -- as I said, I'm not finished with any of my books. Neither a strictly aesthetic nor a stricly consumerist logic will do, and I knew it, but the logic that imposed itself on me in the process of picking out one bookshelf-full of books to take to Chicago still surprised me: I am moving from thinking of books as vehicles for pleasure and amusement to thinking of them as tools in my own projects of writing. For instance, I have to keep my books on Bonhoeffer for when I decide to reformat it and send it to the third journal; I have to keep my books on Moltmann and Barth for the paper I thought I would revise this summer but never got around to; I have to keep Derrida for the translation, and Zizek and Milbank in case I decide to go that route with the thesis instead.
What's really interesting, though, is the books that make it into my travel-pack "on a technicality." There are first of all the books that made such a huge impression on me that I'm sure to want to cite them at some unpredictable point. For instance, I can't
not
have Kafka or Borges on my shelf anymore -- it'd be like failing to take along a Bible. The same general rule applies to Hegel and Heidegger. I'm not working on anything that bears directly on them, but what paper couldn't be improved by a superfluous citation of Hegel or Heidegger? Or there's the strange case of
Ulyssess
and a few others of that size: I need to take along a few big novels for the summertime, since I apparently decided I read a big novel every summer. There are a few others that I took along simply because I haven't read them or started and never finished them: Richard Ford's
Independence Day
, Judith Bulter's
Subjects of Desire
, Cesaro Cassarino's
Modernity at Sea
, etc.
It is out of this group of "technicalities" that I may need to make further cuts in the interest of economy -- but I am not yet ready to cut all the way, nor will I ever be. At the same time, I don't think I can ever go back to the simple acquisition of books for their own sake, to reading as a completely one-way process. Is this part of the misshapenness that comes from becoming an academic in specific, or is it the more general affliction of a writer?
(Adam Kotsko has asserted the moral right to be identified as the author of this post.)
Monday, December 20, 2004
(7:36 PM) | Adam Kotsko:
The Power of Refusal
It's all over the news:
Christmas sales are weak
. It may be over-optimistic of me, but could this be a sign that the multitude is exercising its power of refusal and saying, "Hey, could we maybe not do this Christmas thing anymore?" I know that that's what I think every year at this time.
Does anyone know of a good Marxist analysis of Christmas? It seems like an obvious topic, because every retail store in the nation is depending on Christmas to supply a huge proportion of its annual revenue. How interesting that capitalism has managed to generate such huge profits from our felt obligation to give gifts. Is there any more efficient means of enforcing conformity in our consumeristic culture of debt than the appeal to "Christmas Spirit"? Perhaps in this era of full postmodernism, the true anti-capitalist must look more and more like Ebenezer Scrooge -- one must forsake human company on Christmas Day, not out of hatred for others, but precisely because one so greatly values human fellowship that one can't bear to see it corrupted into a mass of acquisitiveness, conformity, guilt, and despair every year.
(Like every ivory-tower academic type, I am of course disregarding my own advice.)
(Adam Kotsko has asserted the moral right to be identified as the author of this post.)
(1:56 PM) | Adam Kotsko:
Love Songs for the Lord
This weekend my mom graduated from college with a degree in elementary education from the University of Michigan-Flint. Proud, dutiful son that I am, I went to Michigan to attend her graduation party and ceremony. In the process, I was somehow roped into attending my "home church," something I have not done for many years. Overall, it was much better than I thought it would be -- the pastor is a very engaging speaker, and his sermon was surprisingly good.
I did, however, have some complaints about the music. The choir's big anthem quickly degenerated into Republican propaganda, at which I turned to my sister and said, "What the fuck?" The main problem, however, was the "chorus"-style song with which the service opened. I have long distrusted that style of music, and yesterday I fully understood why: it's not that the musical style imitates pop music, nor that the lyrics are overly simple. The real problem is that all of them have the basic ethos of a love ballad. I actually talked to my family about this issue at the restaurant after church, and amusingly enough, Bryan Adams' song
(Everything I Do) I Do It for You
started playing -- I said, "This song could be taken and sung as-is in a church, and everyone would assume it was about God." Here are the lyrics:
Look into my eyes - you will see
What you mean to me
Search your heart - search your soul
And when you find me there you'll search no more

Don't tell me it's not worth tryin' for
You can't tell me it's not worth dyin' for
You know it's true
Everything I do - I do it for you

Look into your heart - you will find
There's nothin' there to hide
Take me as I am - take my life
I would give it all - I would sacrifice

Don't tell me it's not worth fightin' for
I can't help it - there's nothin' I want more
Ya know it's true
Everything I do - I do it for you

There's no love - like your love
And no other - could give more love
There's nowhere - unless you're there
All the time - all the way

Oh - you can't tell me it's not worth tryin' for
I can't help it - there's nothin' I want more
I would fight for you - I'd lie for you
Walk the wire for you - ya I'd die for you

Ya know it's true
Everything I do - I do it for you
The only thing that would really have to change is "I'd lie for you." Other than that, it practically
already is
a "praise and worship" song -- especially because the subject of every verb is "I." That's right: though the song says, "I'm going back to the heart of worship, where it's all about you, Jesus," in reality, it's all about me and what I'm doing. I don't talk about how God has supposedly acted in history or anything that could be identified as having anything to do with Christianity in specific -- I just sing a song whose lyrics are basically, "I hereby worship." Purely performative and purely self-referential. And that goes along with the general ethos of a love song, too, where saying "I love you" is all about me as well.
I'm not saying to return to the old hymns -- use whatever musical style and instruments you want. If you want to make songs simple so that people will feel comfortable singing them, that's fine too. But please -- it can't be too hard to write a song that says something other than "I hereby worship."
But seriously, this is not a Christian blog.
(Adam Kotsko has asserted the moral right to be identified as the author of this post.)
Saturday, December 18, 2004
(9:46 PM) | Adam Kotsko:
Some hack...
has an
article
on Hardt and Negri, Badiou, Zizek, Jesus, and Derrida in the latest issue of
Philosophy and Scripture
.
(Adam Kotsko has asserted the moral right to be identified as the author of this post.)
Friday, December 17, 2004
(1:35 PM) | Adam Kotsko:
Discussion Topic
Why does Atrios suck so much lately?
UPDATE: I have taken the radical step of de-blogrolling Atrios and replacing him with Daily Kos, as Cliopatria has done. I'm sure he'll have a profitable blogging career for many years to come, even without my meager contribution to his Ecosystem rating.
(Adam Kotsko has asserted the moral right to be identified as the author of this post.)
(11:57 AM) | Adam Kotsko:
The Enduring Relevance of Dilbert for My Life
(Adam Kotsko has asserted the moral right to be identified as the author of this post.)
(2:29 AM) | Adam Kotsko:
Friday Afternoon Confessional: Late-Nite Edition
I am writing this after having finished my Benjamin paper, in order to save myself some time for a couple extra "snooze" button respites. I was not able to indulge in all the theoretical acrobatics that I had projected -- I chose instead to focus only on texts that were plausibly related to the Benjamin essay.
I confess that at several points, I was tempted to convert my paper into a piece of Lacanian hackwork suitable for publication in Zizek's "Short Circuits" series, published by MIT Press.
I confess to eating ramen every day for the last week and to drinking far too much coffee during the writing process.
I confess to an ill-advised, though certainly very interesting, trip to an Unfogged-themed chat room on
the very night
in which I needed to finish my Benjamin paper.
I confess that it has never seemed especially weird to me that Anthony is married, although it's apparently very weird to everyone else in the entire world.
Please direct any and all confessions to the HaloScan brand comment box below.
(Adam Kotsko has asserted the moral right to be identified as the author of this post.)
Thursday, December 16, 2004
(8:46 PM) | Adam Kotsko:
What the fuck?
Anthony just directed me to
this
. My life has been changed forever.
(Adam Kotsko has asserted the moral right to be identified as the author of this post.)
(6:47 PM) | Adam Kotsko:
Republican Rebellion
Republicans have been asserting some independence from the Bush administration ever since the election -- see, for instance, the controversy over the intelligence reform bill, the calls for Kofi Annan and more importantly Rumsfeld to resign (and not just from McCain, who's been marketing himself as the Rebellious Republican for quite a while now). Here's one possible take on the whole thing: the legislative discipline of the first Bush Jr. term was likely due precisely to the president's tenuous legitimacy. Republicans fell in line, even when they normally would have balked at the details, because it wasn't worth the risk to do anything to undermine a president who had assumed office under questionable conditions. After 9/11, there was probably also some hope to ride on the coattails of the unsustainable Bush Popularity Bubble -- and a recognition that it was very much a bubble, which might have burst at the slightest display of political weakness on Bush's part. The whole schtick was that Bush was not going to let anyone stand in the way of our country's security -- and if his own damn party stood in his way, then that schtick wouldn't have worked nearly as well.
Now, however, something interesting happened. Yes, Bush won the popular vote, but the effective Republican control of Congress is far greater than the 51% that Bush eked out. They've walked the narrow line of loyalty to Bush necessary to bring them to this point -- now at least some Republicans are starting to see that sticking with a strict "Bush Brand Republicans" line is not going to work in the long term. The question becomes whether this will be a Bush victory--a vindication of Bush as a person--or a Republican victory, which would mean cultivating independent centers of power that are not completely reliant on one man who is going to be gone in four years, and none of whose underlings are viable candidates for president in 2008.
That's just my political analysis; I have no opinion on whether this is good or bad for the country -- although, almost by default, any situation that ends up taking some of the decision-making power out of the current White House is better than what we've had for the last four years. If you think I'm partially or totally wrong, feel free to let me know -- I'll be here all night, writing about Benjamin in little one-page spurts, followed by long periods of apparent dormancy. My paper-writing technique is reminiscent of Douglas Adams's novel
Dirk Gently's Holistic Detective Agency
.
(Adam Kotsko has asserted the moral right to be identified as the author of this post.)
(10:16 AM) | Adam Kotsko:
Caption Contest!
(via
B12 Partners
, who
respond
to my
post
about the
New Yorker
"Vegan Insomnia" cartoon as though I were an offended vegan -- their post includes the cartoon itself)
(Adam Kotsko has asserted the moral right to be identified as the author of this post.)
(9:38 AM) | Adam Kotsko:
Fund Drive Wrap-Up
We ended up raising $280. I figured that we could get a sheep and a goat ($120 ea.), then use the remaining money to buy a couple flocks of chicks. Any objections?
Thank you to everyone who donated so generously. I count this fund drive as very successful. I'm sure that the Help Adam Move Fund will be a success story as well.
(Adam Kotsko has asserted the moral right to be identified as the author of this post.)
Wednesday, December 15, 2004
(10:37 PM) | Adam Kotsko:
Social Security
Josh Marshall seems to be
exactly right
about how Democrats should approach Social Security reform (via
John Holbo
, who has been struggling to develop an effective ad campaign on this issue -- I approved of
this attempt
, which was rejected on the grounds of being too anti-market). For Marshall, the basic question is whether or not we want to keep a system of guaranteed benefits for everyone. Democrats should not allow themselves to be caught in the rhetorical side-trails in which Republicans love to indulge -- for instance, whether the stock market is comparable to casino gambling.
(Adam Kotsko has asserted the moral right to be identified as the author of this post.)
(6:12 PM) | Adam Kotsko:
My Little Paper
I just thought you would all like an update: my paper on Benjamin's
"Work of Art in the Age of Mechanical Reproduction"
is going really well.
I even got to drop a footnote to clarify "all translations mine" -- not on Benjamin himself, but still, it has been an ambition of mine to drop such a footnote since before my French class. (The "translations" in question are of Paul Valéry's essay
"La conquête de l'ubiquité"
[1928]. I get a good couple pages out of old Paul, whom Adorno calls an arch-reactionary.)
All right -- time to go churn out the last two-thirds of the paper.
(Adam Kotsko has asserted the moral right to be identified as the author of this post.)
(1:39 PM) | Adam Kotsko:
A Very Chiropractic Christmas
At the chiropractor's office, we're getting into a festive, holiday mood through the use of repetitive music subjection therapy. I'm normally not "into" Christmas (Bah humbug! Ha, ha), but this time around, the music is
so good
that even cynical, liberal Adam can participate with just as much joyful vigor as all the underemployed "just folk" in this blighted town. A big part of it is simply a matter of giving me contemporary music, music
I can relate to
. For instance, did you know that Eddie Vedder had a Christmas song? Nothing says holiday cheer like good ole Eddie Vedder (yes,
that
Eddie Vedder!) wailing about the memories of "when [he] was a kid."
Another contemporary hit provided me with a mildly embarrassing moment: the two doctors were in the middle of a conversation right next to my desk, and all of a sudden I asked aloud, "Is this Tori Amos?" The younger doctor said, annoyedly, that he didn't know, then clarified to the older doctor that I was asking about the music. That, to me, is what Christmas is about: a creeping feeling of self-loathing and of being out of place.
Much of the new Christmas music that has been produced has been of admittedly negligible value. For instance, the soulful song that goes, "And this
Christmas
... wiiiiillllllll bbbbbeeeeeee... a very special
Christmas
.... for meeeeeeee" -- I fucking hate that song. Or the country-ish song where they're talking about e-mailing Santa (Dixie Chicks?) -- I fucking hate that one, too. The worst has to be Paul McCartney's Christmas music, though. "And so this is Christmas" is a brilliant name for a
blog
, but it's a terrible, cloying song. Even worse is "Simply Having a Wonderful Christmas Time." For a guy whose band was bigger than Jesus, he sure writes shitty holiday music -- though maybe he's trying to sabatoge Christmas and replace it with Beatlemas.
If we're being rigorous, the only Christmas song that stands on its own merits musically is clearly "Greensleeves," and that
wasn't even originally about Christmas
. Well, unless we count "Mary, Did You Know?" by Mark Lowry, but that's not
just
a Christmas song. (Incidentally, my dad once did an acoustic version of the song, and it was a lot better than the over-produced "canonical" version with orchestra and choir. I'll post about my dad's band after I get a Christmas update on whether he's found a new singer -- my dad's the founder of a prog-rock band, and my mom is just about to graduate from college.)
UPDATE: "So this is Christmas" was actually by John Lennon. Also, Jesse submits that "O Holy Night" not only stands on its own musical merits, but it is superior to "Greensleeves." This requires discussion, I think.
(Adam Kotsko has asserted the moral right to be identified as the author of this post.)
(8:51 AM) | Adam Kotsko:
Fund Drive
Today, as announced, is the last day of our Heifer fund drive. With $100, we have enough to get a mid-level animal -- not a heifer, certainly, but a llama, a goat, or a sheep. Which would you prefer? I'm leaning toward a goat, because they eat tin cans. If anyone wants to donate still, I'm not going to transfer the PayPal money to my bank account and write the check until tomorrow, so there's still time. You can, of course, donate directly if you so choose.
In personal news, it looks like I will be moving to Chicago in mid-January with Anthony and Hayley Smith. I'm quite excited about that -- I only wish that my semester started before February, so that I'd have my student loan money on hand to move with. Perhaps starting December 16, I'll start a "help Adam move to Chicago" fund. Or else you can just visit our sponsors -- even though all the ads on the main page are for blogging services most of the time, which makes it understandable that no one would be enticed to click them.
(Adam Kotsko has asserted the moral right to be identified as the author of this post.)
Tuesday, December 14, 2004
(6:43 PM) | Adam Kotsko:
Blog Poetry
I am a great lover of magnetic fridge poetry, though like all owners of a fridge poetry set, I do not use it nearly enough. I find that I am able to create the most beautiful verse when limited to the magnetic little words -- the other night, for instance, I wrote a four-line poem that ended something like, "the world is sustained by a gentle lie."
This brings me to the title of my post: blog poetry. My suggestion is to open up a browser window to a popular, link-heavy site, such as Instapundit, and write poetry using only the words that appear on screen at any one time -- no scrolling. Here's a few lines using Instapundit (Right now, the top post is "RACHEL LUCAS IS BACK. And she's pissed"):
Strengthen America's wry growth in porn:
Linking economy and subtlety,
Reading impossible short satire,
Talking big English on a second technology --
in time, the big thing is created.
I figure that we could all do this constantly for the next couple days, then gradually lose interest and never pay attention to Instapundit again.
(Adam Kotsko has asserted the moral right to be identified as the author of this post.)
(5:43 AM) | The Young Hegelian:
On Naïve and Sentimental Cinema
I've been trying to think about what it is I didn't like about the American indy film
I Heart Huckabees
and what I did like about the American indy film
Garden State
. Not that I'm an expert in these matters but I can at least lay claim to having seen most of the American indy films that have made it across the water in the last 18 or so years. But is 'American indy' even the right term these days? Shouldn't we call these films 'Sundance', as a friend suggests, seeing as fewer of them are now made by independent production companies?
Garden State
is a Fox Searchlight / Miramax collaboration which makes one wonder about whether the term 'independent' is at all appropriate, whether capital has woken up to a new demographic and quickly co-opted it. What remains of the concept 'American indy', it seems to me, must refer not to the funding process (the mode of production, as it were) but to the film's
genre
– in this case a set of aesthetic traits which cover theme (offbeat, youth-oriented), plot (unpredictable), characterisation ('kooky'), location (small-town), cinematography (relatively naturalistic), score ('independent' music). Not that all films classed as 'indy' will fit all or even most of these traits, but something like a Wittgensteinian family resemblance links them. Think for example of some key films from the genre over the last few years: Todd Solondz'
Welcome to the Dollhouse
, Sophia Coppola's
The Virgin Suicides
, Kenneth Lonergan's
You Can Count on Me
, Sam Mendes'
American Beauty
, David Green's
All the Real Girls
, and now
Garden State
. All of them share at least one of the characteristics mentioned.
If we are to believe The Guardian's film critics the family resemblance of the last-mentioned is a little too close. Peter Bradshaw calls
Garden State
"a gently self-indulgent, vaguely autobiographical tale in the indie unplugged style, a drama of offbeat vulnerabilities suffused in a genial, but faintly thin-skinned style of humour." Philip French calls it "a moderately entertaining near-parodic, by-numbers example of American independent cinema". Both reviews are somewhat mean-spirited, and surprising too, given Bradshaw rated
Huckabees
higher. Bradshaw always was a contrary so-and-so.
But I'm still not sure what it is about the
Huckabees
film that I don't like. Part of me wonders if its parodies of philosophy and of political activism are a bit near the knuckle. But no, they're not, they are more often working with a merely crib knowledge of existentialism, which was itself always the crib route in to philosophy. This makes for a script which is both knowing yet embarrassingly lacking in knowledge.
And what makes
Garden State
a better film? Is it the greater subtlety of its jokes? That they come 'out of left-field', to use an American expression. Maybe it's the slower duration, something which meets my European sensibility – I found myself missing some dialogue because it was thought-provoking in a way the all-too-earnest philosophical parody wasn't. Maybe I was pleased with myself for recognising its idiosyncrasies, the reference to 'Mac and Cheese', or the Shins' song I have on a John Peel tape. Maybe at the end of the day it's the simplicity of the theme which ends up being more profound than its rival because it deals with something even more difficult than philosophy.
I would never devalue the genre 'American indy' alongside the European films I watch (and both are better than the formulaic dregs Britain has produced over the last decade). I was introduced to both continents' cinema (among my first visits to the cinema were trips to
Blue Velvet
and
Wings of Desire
) in the same year. Each genre informed my growing appreciation of the other. A film like
Garden State
(if I can go out on a limb for a moment) has an affinity with the French poetic realism of a Jean Vigo, in that each finds a certain metaphysical latency in the everyday, each creates a poetry of real life in a way Hollywood – the dream factory, the poetry of unreal lives – never could. Though one must always worry that the making of 'indy' films merely co-opts the sort of demographic who could have shaken the film industry to its core and dispelled its dreams. But short of this utopian destruction of utopia, short of the real 'independence' of our aesthetic, there will always remain good reasons to watch films such as this.
(The Young Hegelian has asserted the moral right to be identified as the author of this post.)
Monday, December 13, 2004
(8:17 PM) | Adam Kotsko:
St. Paul Week: The first letter of Slavoj Žižek to the Corinthians
Slavoj Žižek, called to be an apostle of Jacques Lacan by
objet petit a
.
To the academic community that is in Corinth and to all those who are called to get off on knowledge and to enjoy their symptom.
May all of you escape the tyranny of the obscene superego injunction to enjoy.
Now I appeal to you, that all of you might be united in the theoretical labor of refounding the emancipatory leftist project. For it has been reported to me that there are quarrels among you. What I mean is that each of you says, "I belong to Derrida," or "I belong to Judith Butler," or "I belong to Habermas," or "I just do philosophy." Is not this division into separate schools, far from being a distraction from the genuine philosophical task, instead
the very condition of philosophical insight?
Is it not the case that, rather than try to mediate among all these conflicting positions, we should instead insist on a
radical partisanship?
I am glad that I have never sought "rapprochement" or "dialogue" between two schools of thought. (I did write a book on Deleuze, but that was an encounter, not a dialogue.) For I did not set out to ease division, but to touch upon the Real -- not with postmodern sophistry, lest the offensive, intolerant kernel of Lacanianism be relativized and emptied of its power.
For is not the very excremental, disavowed remainder, the inert, useless left-over, the VERY CONDITION of
jouissance
? Where is the adherent of the Levinasian Judaism? Where is the propagandist of "identity politics"? Has not all the feverish debate among so-called "radical" intellectuals been revealed as the necessary complement of the universal capitulation to tolerant neo-liberal consensus? For since, through the cunning of reason, the radicals were not able to acknowledge their complicity with the current capitalist order, the very intolerant "rednecks" whom the liberal intellectual elite detests must instruct us in resistance and opposition. The Levinasians demand an idolatry of otherness, while the identitarians blind themselves to the totality of the political situation. And so, I preach Hegel Lacanianized, allied with the
subversive kernel of Pauline Christianity
: a stumbling block to the tolerant relativists and foolishness to the "enlightened" academic sophists -- but to those who get the pun, the "puppet" is theology and the "dwarf" is now historical materialism.
[Based loosely on
1 Corinthians 1:1-24
.]
(Adam Kotsko has asserted the moral right to be identified as the author of this post.)
(6:44 PM) | Adam Kotsko:
Subcomandante Marcos is Co-Writing a Detective Novel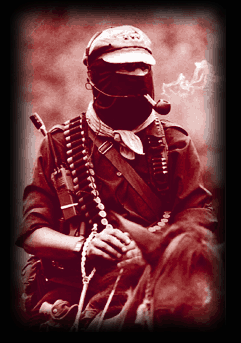 The New York Times reports with the patronizing tone we've come to expect in their coverage of left-wing Latin American politics. NPR's audio is better; it's the way I heard about the story this morning.

Perhaps some level of patronizing is appropriate in this case -- though I'm starting to wonder if the narrowness verging on anti-intellectualism that Dan Green critiques in the New York Times Book Review is actually a problem with the paper as a whole. The hiring of David Brooks alone constitutes prima facie evidence of this.

I do like their hard-core international coverage, however, such as the front-page story on Sunday about the poisoning of the Ukrainian opposition candidate Viktor A. Yushchenko. We thought it was bad when the Republicans mocked Kerry's windsurfing exploits (or rather, point out that "Kerry windsurfing was not simply about blowing with the wind, it was about an eastern elitist sport that visually demonstrated the Democratic nominee didn't share the values of swing state voters"). The Ukraine establishment, by contrast, mocked Yushchenko's cyst-covered face and severe stomach pain by saying that he must have eaten bad sushi -- after poisoning him (I know it's not proven yet, but come on). I know that I find such a dramatic change to be absolutely fucking hilarious:
This has been our international news segment for today.
(Adam Kotsko has asserted the moral right to be identified as the author of this post.)
(7:58 AM) | Adam Kotsko:
St. Paul Week: A Summary
[I am extending St. Paul Week to include this week, in order to give everyone a chance to contribute if they haven't already done so or to write a second piece. I don't expect the sequel to be as good as the original, but I don't see any harm in extending it. I will update this post with any new Paul-oriented writings that are produced this week.]
Here is what we all wrote for St. Paul Week:
(Adam Kotsko has asserted the moral right to be identified as the author of this post.)
Sunday, December 12, 2004
(10:12 AM) | Adam Kotsko:
A Dream
Last night I had a dream that I went into my Google AdSense report and found that I had racked up $500.00 in one day. I believe the real-life cause of this was a late Saturday link from
Matthew Yglesias
-- I thought for sure that I would be barraged by traffic as a result (an "Yglesi-lanch," perhaps), and who can resist clicking on an ad for "What is baptism?" or (my personal favorite) "Silk Blogs"?
But clearly, I'm not in this for the money. I'm in it for the glory, praise, and honor. And really, I don't mind that I never get nominated for any blogging awards. I don't mind that the so-called "big names" don't blogroll little old me. I don't mind being a damn "
flappy bird
." My reward will be great in the kingdom of heaven!
When you're done browsing the wares of our sponsors, please consider clicking on the PayPal link under "The Charity." I plan on shutting down our little charity operation on Wednesday -- so far, we can afford a goat and maybe a couple guinea pigs, but honestly, we can do better than that. This is a plan to introduce
sustainable prosperity
into the life of a family or a village. This is an approach to charity that
makes sense
, as opposed to just dropping in with periodic hand-outs (or dropping food along with bombs).
So please, drop a twenty into the basket to buy a damn goat! You'll be glad you set up a PayPal account if you don't already have one. I accept credit cards. It's easy. You can afford it. If you can't afford twenty dollars, you could give one of the 1,999 amounts of money that are less than twenty dollars. There are a lot of options here. If you would prefer to mail a personal check, e-mail me, and I'll give you my address.
Or hell, just send in the money to Heifer directly -- it doesn't have to be through me. Here I am, acting like this big important blog star with the power to change lives throughout the world, when really, you all are capable of taking suitable action on your own. So do what you want -- let everyone be firmly convinced in her own mind!
Thank you.
UPDATE: What do you know? Nagging works -- we've received another donation. So would all the donors like to receive their reward now (in the form of a list of all contributors to the Heifer fund), or would they prefer not to let their left hand know what their right hand is doing (thus securing an even cooler reward in the kingdom of heaven)?
(Adam Kotsko has asserted the moral right to be identified as the author of this post.)
Saturday, December 11, 2004
(10:31 AM) | Adam Kotsko:
My Efficient Workflow
Following
Kieran Healy
's lead, I've decided to write a brief
précis
of my workflow.
Music
For music, I use a combination of a six-year-old
Bose
Wave Radio, which I hope will last for the rest of my adult life, and
Winamp
. Since the DVD-ROM on my rapidly deteriorating laptop no longer works, I can only listen to CDs on the Bose, which is in the living room, while my "workspace" is my bedroom. I feel rude playing CDs, particularly classical CDs, at sufficient volume to hear them across the house when my roommates are home, which means that I only rarely am able to listen to classical music while studying or writing. (I would move the Bose into my room, but it's the "family" stereo.) Although the credit card-sized remote is always an object of fascination for new visitors to the
chez
Kotsko, it does not work from my room to the living room.
For music-stealing software, I use the AOL Instant Messenger client, with the free "Robb Schuneman" plug-in. Keep Robb in your thoughts today, because he's sick -- he thought he coughed up part of his lung, but it turned out to be merely part of his nose. I'm sure that a full-length treatment of this incident is forthcoming, once he's restored to full power.
Blogging
I use Blogger, combined with Mozilla Firefox. I've thought about upgrading The Weblog to something cooler like WordPress, but I promised myself this semester -- no messing with the damn computer! I don't use Firefox's tab feature -- I just open up as many windows as I feel like I'll need and let the taskbar be my tabs.
Research
Several of my ongoing projects require constant research, primarily my Zizek links page. In order to track down new articles, I sit back and wait either for Amish Lovelock to link to them in comments or for Matt of
Pas au delà
or
Mark Kaplan
to link to them on their blogs. Then I edit my file using
emacs
and upload it using Microsoft's FTP client. Similarly, my way of keeping up on the latest conferences and general academic gossip is to wait for
à Gauche
to tell me about things.
For scholarly research, my method has been to sit down with a journal or book, and type quotes or relevant thoughts into Microsoft Word, under a heading that contains the book's bibliographic information pre-formatted into MLA. (I know Kieran would argue that this is an error-prone process that should be automated, and I agree in principle, but I am skeptical about the idea that a computer could do better MLA format than me at this point.) I know that this is a stupid way to go about it, but I came up with it while I was at Oxford and could not justify to myself the idea of developing some kind of database system to handle my research on Spenser. Now, of course, I need to dig out those quotes on Spenser
constantly
, so I'm kicking myself.
Writing
For writing, I use Microsoft Word. I have completely changed every aspect of the program, and I make very disciplined use of styles. Before starting a paper, I always set up its "infrastructure"; in some cases, I have my projected Works Cited page written out before even putting in the title for the paper. It occurs to me that templates could help here, but again -- no messing with the computer!
Conclusions
I started off my academic career as a hardcore computer nerd with a relatively inactive social life, and now, in a tremendous
Aufhebung
, I am behind the curve technologically and primarily use the computer to maintain social connections. Kieran's post really did make me think that I need to invest some serious time and thought into how to make the computer work better for my needs, and perhaps this summer, before heading off to a PhD program (I mean, at least one is bound to accept me, right?), I can get that under control. For now, though, I'm sure that Kieran would tremble in fear at the sight of me sitting down to write with stacks of books, pausing, each time I think of an apt quote, to dig through and find it -- "No, no, I remember, it was on the bottom half of the right-hand page!"
Feel free to share your workflow management methods in comments. I recommend that you use HaloScan -- I know it doesn't have all the features that we might want (for instance, e-mail notification to individual commenters), but it's there, and it works.
(Adam Kotsko has asserted the moral right to be identified as the author of this post.)
(1:20 AM) | Anthony Paul Smith:
A Series of Unpopular Opinions.
I don't support the troops, and I don't intend on doing so in the near future. While I find it deeply disturbing that a nation so "in support" of their troops is willing to send them to the battlefield to die effectively for nothing, I don't see any reason why I should feel bad for them. If the conservatives are correct in believing that the armed forces are not disproportional minority soldiers, then I assume they have grown up in the same educational system I did. As I found war to be radically stupid in most cases, and especially any war lead by an insane administration, guided by the prescriptions of a ridiculous ideology like the current Iraq debacle, I feel no reason to assume that those who joined up didn't have the same opportunities. I say this with two brothers in the field, and having known a fellow youth grouper who died. Frankly, if you are willing to join an imperial and mercenary-style army, waging an unjust war against brown people in a sovereign nation and happen to be killed by some primitive weapon I feel bad for you, but mainly for your stupidity. No one, not a single person, should join the armed forces while any insane conservative is in charge.
Indeed, I think social welfare is more important than moral values. While I agree with many democrats who say we need to reclaim moral values (in fact I wrote a post on it far before the way, decrying conservatives as morally despicable), I do not believe that those values should be given a higher priority than the actual material conditions of a persons life.
Abortion is horribly violent, and yet I think pro-choice policies are going to help alleviate this violence. Granted they may allow for abortion in the first place, but they are also the same people trying to create a society that helps care for those whom pregnancy is hardest for.
George W. Bush is an asshole. I know that half the country won't agree with me, but if I can score higher than the mother fucker in college, he's an asshole for even running for president. As I don't believe I am able to be president, no one who is less intelligent than me should either and if they believe they have "what it takes" than they are simply assholes who need to have the shit beaten out of them. This should not be misconstrued by the Secret Service (S.S.) as a threat against the president. I am, after all, a passionate pacifist.
The world is not safer without Saddam Hussein in power. As the editor of the Marvel Comics would say, "'Nuff Said."
Evangelical Christians are really backwards. That's right. If you still think that homosexuality makes you unfit to be a parent, the world was created in seven days, and that praying for people is more effective than actually doing something for them, then you are extremely stupid. This is not a statement against their faith, as I don't believe most of them have anything resembling faith, but against their willful ignorance in the face of reality. I know that Andrew Sullivan would hate me for this, but until he can admit that he hates himself - fuck 'em.
It's good to end with a holy number and so I must end here. France is better than America. I've been there, and I must say that they are far more intelligent than the average American. Sure they are pussies, and speak some weird, backwards language - but, God damnit, they've earned it! If any conservatives have a problem with any of this, well, feel free to contact me and arrange a fight.
(Anthony Paul Smith has asserted the moral right to be identified as the author of this post.)
Friday, December 10, 2004
(11:27 PM) | Brad:
St. Paul Week: Proclamation & Poesis
I am not, by any normative standard at all, a Pauline scholar. The degree to which I am a scholar in anything at all, it would be continental philosophy and Herman Melville. That said, however, I did moonlight for a while, in the earlier, halcyon days of my seminary days, as one who actually spent some time reading and reflecting on the good apostle. When I left the creaking doors of the Church dimly lit, the very same day I was officially ordained as one of its earthly representatives, I was, I proclaimed to friends, 'done with it all.' What I have found interesting, and I'm sure this is worthy of more analysis, though I am especially loath to endure it, is that the further I moved away, i.e., to outright secularism qua philosophical materialism, via deconstruction and thenIdealism, the more I became interested in returning, and not simply with a morbid, ironic fascination, to some of the dustier vestiges of this previous faith. The Weblog is, along with a resurgent interest in politico-philosophical appropriations of Paul, a testimony to the fact that I am not alone. We, of course, did not all share the same faith, or perhaps even faith at all, and neither do we speak or think the same of it now; but, alas, here we are, born again, as it were, if I may take a perverted notion and pervert it still more, in the 'archaic religious practice' (to quote Anthony) of Pauline studies.
I say all this not to award us all with gold stars for the tenaciousness of our speculative vigor, that we would dare (or, for some, deign) to rehabilitate Paul. Rather, I say it to highlight a peculiar passage, one that has long bothered me, and was recently explicated by a friend of mine who has spent the better part of his adult life translating and teaching the New Testament. I am talking about
Philippians 1.12-18
.
Paul begins v. 12 with one of his normative disclosures: Not only has the gospel advanced in spite of his imprisonment, Paul avers that it has advanced because of it. What is significant here, my friend explains, is the measure of Paul's idea of success -- i.e., he was not referring to the winning of converts, but to the dynamic aspect of the gospel's proclamation (or, to speak more contemporarily, its re-citation). That is, by virtue of the Praetorian guard knowing Paul to be imprisoned because of the gospel of Christ, as well as the emboldening effect it has had on others to speak 'the word of God without fear', its message has been spread. Importantly, none of this means that any of the Praetorian guard, for instance, had been converted. The import for Paul is that the gospel itself had been advanced simply by its proclamation.
This, in itself, is interesting enough. Verses 15-18, however, provide the twist that, I think, deserves far more thought than a single blog post can allow. Paul writes:
[15] Some indeed preach Christ from envy and rivalry, but others from good will.
[16] The latter do it out of love, knowing that I am put here for the defense of the gospel;
[17] the former proclaim Christ out of partisanship, not sincerely but thinking to afflict me in my imprisonment.
[18] What then? Only that in every way, whether in pretense or in truth, Christ is proclaimed; and in that I rejoice.
What seems to be happening is that some of Paul's opponents are preaching with the 'insincere' motivation of usurping his pedagogic authority in the Philippian church. Paul's response is as rhetorically ingenious as it is philosophically radical. That is, he not only 'decontextualizes the gospel of Christ' (per my friend's deconstructive explanation), i.e., away from the standard notion of one's assent to it (toward the notion of recitation/proclamation, wherein conscious motivations do not seem to play the role they would appear -- be they Paul's or Paul's opponents) , but has effectively highlighted its excessive particularity. The gospel of Christ, as it were, is never
that
, in the Lacanian sense ... and this is, for Paul, precisely what predicates the conditions of its very success/advancement.
Now, yes, I think there are probably problems with aligning 'the gospel' too closely, too quickly with some version of
objet petit a
. And no, the material particularity of Paul's gospel ought not be entirely dismissed, any more than it should be embraced without self-conscious reflection. Rather, in close, the direction in which I am currently trying to push my Pauline friend is, instead of the all-too-easy deconstruction still rampant in a large sector biblical studies, is that of an autopoetic (or self-adaptive) gospel, whose particularity is taken seriously enough to include the presuppositions of its own proclamation.
(Brad has asserted the moral right to be identified as the author of this post.)
(7:11 PM) | Adam Kotsko:
With Apologies to Ralph Luker: Yet Another Post on Conservatives in the Academy
I know we here at The Weblog are beating this particular horse to death, but so is the whole damn blogosphere, so live with it. Anthony has mentioned before that there exists a whole network of conservative religious universities, and I would add that there are also many right-leaning think tanks out there. While simply consigning all conservatives to these schools is not the solution, I'd just like to compare the general dynamic to the right-wing take-over we've recently seen in the media. The strategy was to complain of bias in the mainstream institutions, while simultaneously building alternative institutions such as right-wing radio and eventually Fox News. The result has been that right-wing opinions are now disproportionately represented in the institutional mainstream media, and due to the small circulation of avowedly left-wing media, in the media universe as a whole. The concrete result has been, I would argue, the Iraq War.
Now I don't think that anyone is going to die as a result of some future arrangement whereby all literature professors make cutting jokes about President Hillary rather than about Shrub; I'm just saying that this whole controversy seems to be following a general pattern. I'd also say that the fact that the conservative movement didn't start in on the universities to begin with displays their political acumen, in that they knew that a stranglehold on the terms of the media debate was much more important than anything that was going on in the academy. You've got to hand it to these guys -- they know what they're doing. I kind of wish that some left-wing cabal had applied the insights gleaned from a close study of Gramsci to the take-over of the media rather than the humanities.
My moderately "conspiracy-theory" examination of this problem is not intended to simply dismiss those aspiring academics of a conservative bent who felt either excluded from a fair shot at a job or ostracized by their peers after attaining one, any more than talking about how the Iraq War was the worst fucking idea ever is intended to minize how much it sucks to be a soldier over there or, more importantly, how much it sucks to be an Iraqi right now. The key here is that the controversy, as it is in fact taking place in the current political setting, is not "about" those excluded conservative intellectuals any more than bullying rhetoric about how we need to support our troops over in Iraq is "about" those troops -- both the troops and the conservative literature grad students are nothing but pawns in a larger power struggle.
I'm sure this is all academic anyway, since university administrators will eventually look at the numbers, shut down humanities departments altogether, and allot more money to the business school. The machinations of capital are conspiring to put proportionately more Republicans in the academy in the long run -- though I'm sure there'll be a huge swarm of commentators poised to blame the decline of the academic humanities on those stubborn radical leftist professors. Because, I mean, they use jargon and stuff and have opinions out of the mainstream of American debate!
As a sidenote, I'd really like to see someone put this whole thing into the context of adjunctification. (If someone has already done so, please point me in the right direction.) The fact that this debate seems so disconnected from the realities of academic employment just solidifies my opinion that this is more about extending right-wing hegemony into yet another sphere of public life than it is about redressing a real grievance.
(Adam Kotsko has asserted the moral right to be identified as the author of this post.)
(8:26 AM) | Adam Kotsko:
Friday Afternoon Confessional: Announcements
I am extending St. Paul Week through the weekend to give everyone who wanted to post an opportunity to do so. I am willing to go into next week as well, if necessary. I have been very pleased with all the contributions and with the conversations that have developed out of them. Once everyone has said all they want to say, I plan on writing up a post compiling links to all the St. Paul Week writings, then making a link to that post a permanent monument on one of the sidebars.
Now, onto the confessions: I always feel guilty calling off work, even when I have been feeling sick for days; I am always overly persuaded by the last person I talked to about my personal life; I have been an insensitive asshole; I have not worked as diligently on my papers as I should have; I have let French fall by the wayside these last couple weeks; I am really tired of waking up and being in the process of suffocating on my own snot. Also, I am not writing the promised "Pauline" confessional because I have no idea what that would mean.
Thank you, and have a pleasant day.
UPDATE: Since I'm working on a paper in which I use Carl Schmitt, I'd also like to confess a somewhat old sin. In my statement of purpose for theology programs, I included a list of "Christian thinkers" who had noted the theological roots of modern philosophical and political concepts, and on that list of "Christian thinkers" was, without qualification or caveat, Carl Schmitt. I can definitely see a lot of Christians not wanting to claim him as one of their own. I also included what might have been interpreted as a potshot at Milbank in my statement of purpose for Nottingham, where Milbank is currently teaching.
I always thought that Freud was hitting on something important in
Beyond the Pleasure Principle
. My mom worried when I first started reading Freud that I was in it primarily for the sex (she hadn't actually read him at that point), but I think it was more specifically for the self-destructive impulses.
(Adam Kotsko has asserted the moral right to be identified as the author of this post.)